You'd think that there's nothing more mundane than reading about what someone else puts on their face in order to get ready for bed annnnd you may be right but for the sake of this post YOU'RE WRONG. Just as many of us like to know what skincare so and so is using to get her face so bright and glow-y and what lipstick shade she's got on, a nightly skincare routine is worth the curiosity, especially if it's working.
Your PM skincare routine should differ from what you apply in the AM for various reasons. What you're applying on your skin for the PM should be helping it wind down and replenish itself. Netflix & Chill for the skin (no, not that version). Your skin should be rejuvenating and repairing itself in the wee hours of the night & a good skincare plan can even help with the aging process (well, the look of it at least – not that there's anything wrong with them laugh lines). On the other hand, your AM skincare routine should focus on prepping your skin for the day – shielding it against all the usual suspects like contaminants, pollution, UV rays, dirt, bacteria, OH MY…
Annnd even though it would be so much easier to just slather your skin in like, Vaseline or coconut oil or whatever they used before we all became VERY EXTRA, having different products for both routines will very likely benefit you, just not your wallet. Sorry.
Anyway, we thought we'd share what we use to help our skin get it's beauty sleep and since we both have very different skin types, our routines are quite different from each other's. Hopefully you'll be able to relate to one of the two.
Step 1 – Cleanser
I wear makeup almost every single day. Usually not a full face but I do need foundation to even out my skin and that needs to come off at night. Skimp on your routine wherever you want, but please don't skip this vital step! On a full face makeup day I will do the double cleanse method but most days 1 step is enough to get me pretty squeaky clean (and lets be real, I'm too lazy to double cleanse).
WHAT I USE:
Di Morelli Cleanser

Hands down my favorite cleanser. Its PH balanced and does a thorough job of removing makeup and debris without stripping my skin. I have sensitive skin and have never reacted to this. I use this every single night and also in the AM.
Farmacy Green Clean Makeup Removing Cleansing Balm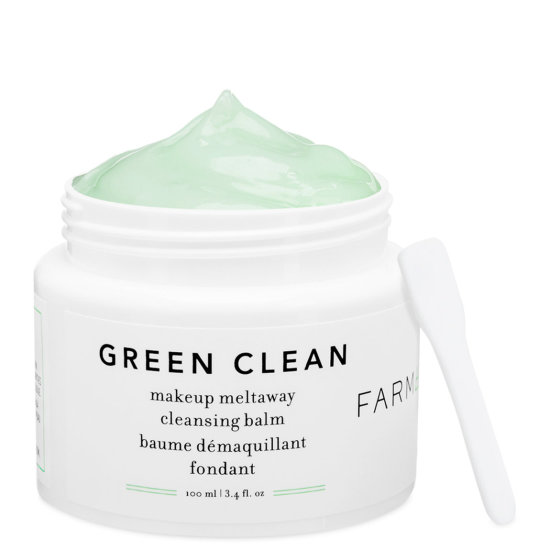 I do love the feeling of this gentle balm and it has a fresh scent that's not cloying. I use it twice a week max. Those heavy makeup days can't get past this skincare hero. I always follow up with the Di Morelli Cleanser after and can sleep in peace knowing that there is no gunk left behind.
Step 2 – Retinol/Mandelic Acid/Enzymatic Peel
I have a bit more complicated of a routine with my anti agers and acids. I use Retinol Mon/Tue/Thur/Fri, spot treat with Mandelic Acid Wed/Sat and finish the week with the Enzymatic Peel on Sundays.
WHAT I USE:
Zo Retinol Skin Brightener – .25% Retinol

I use this in the mildest strength and it's kind of become my miracle product. I have used stronger Retinol but my skin was never able to adjust and was chronically dry and peeling. We don't even want to talk about the 6 month purge with Retin-A, I still have nightmares. This Retinol has kept my skin glowing and manages to keep the breakouts at bay. My skin looks more even and who doesn't want that? I've been told many times that Retinol is the best anti ager and I'd love to at least LOOK younger. I'm almost afraid to talk this up because I don't want to jinx it!
Zo Enzymatic Peel

I keep this to once a week and it does such an excellent job of removing all those pesky dead skin cells. I wake up with baby soft skin. I won't increase my usage as with the retinol it's already a lot of exfoliation.
Almond Clear Body Clearing Serum – Level 2

I will apply this nightly to any body breakouts that I may have. Now, if you have been following this blog, you will know my love for this product! I will also use it twice a week on any face breakouts to help bring them down, but I won't mix it with my retinol so it does limit my use.
Step 3 – Night Cream
WHAT I USE:
First Aid Beauty Ultra Repair Firming Collagen Cream with Peptides

Feels so soothing when I pat this in and I love that it keeps my skin from dying out but doesn't make me oily or clog my pores. It's also great for sensitive skin like mine!
Step 4 – Eye Cream
WHAT I USE:
Ren Brightening Dark Circle Eye Cream

Let's be honest for a second, does any eye cream really make that much of a difference? Personally, I don't see a massive change in dark circles from any eye cream. That being said, this eye cream gives my under eyes the hydration that they need and over a period of time I have seen a slight improvement in dark circles. I never get milia from this and that's HUGE in my books!
Step 5 – Lip Balm
WHAT I USE:
Laneige Lip Sleeping Mask – Original

The OG. This is my favorite part of going to bed. Just slathering this lil guy all over my lips and waking up to those pillowy soft lips. LOVE.
Step 1 – Cleanser
I'm lucky enough to not have to leave my house for weeks at a time if I so please (& I do, I do please) so I don't wear makeup unless I'm going out for dinner or something (only if pics are on the menu) or if we're shooting content. I do workout every day so, even though I have no war paint to remove, cleanser is necessary to rid your skin of the day. Sweat, dirt & whatever miniscule filthy particles that attach themselves like leeches to our skin need to GET THE HECK GONE before I hit the pillow. My sheets are too nice to sully anyways.
WHAT I USE:
Philosopy Purity Cleanser
I've been using this since the mid 2000's & have continued to do so because it's the PERFECT one step cleanser (at least for me). It removes a full face of makeup (including mascara) with just a dime sized amount, it doesn't irritate my skin & it smells nice and fresh. You know I need some kind of scent to my products and this one is just soapy CLEAN. I'm a huge fan of most Philosophy products and this is by far my most used.
Step 2 – Serum and/or Toner
WHAT I'M USING:
Ole Henricksen Glow 2OH Dark Spot Toner
I tend to get dark spots after a random PMS zit and it just drives me crazy because I'm not exactly acne prone so while my skin does a great job of keeping blemishes at bay – Aunt Flo swoops in on her broomstick and is like "let me do my worst." So, although I'll treat said zit with drying lotion or another acne solution it sometimes leaves a dark mark that takes it's sweet time leaving me in peace. I started using this toner for this reason specifically (and I have some sun spots that I don't think are all that cute). It contains AHAs (glycolic and lactic acids) so I don't feel like I need to add any serum to my routine when I use this since it can counteract & sometimes too much is TOO MUCH. I don't think I use it consistently enough for it to really make a significant impact but when I have aforementioned zit it's mark will dissipate much quicker than if I wasn't using the toner so there's that. I also don't use it on the daily because that's where the next product shines so it's not as necessary.
Fenty Beauty Fat Water Serum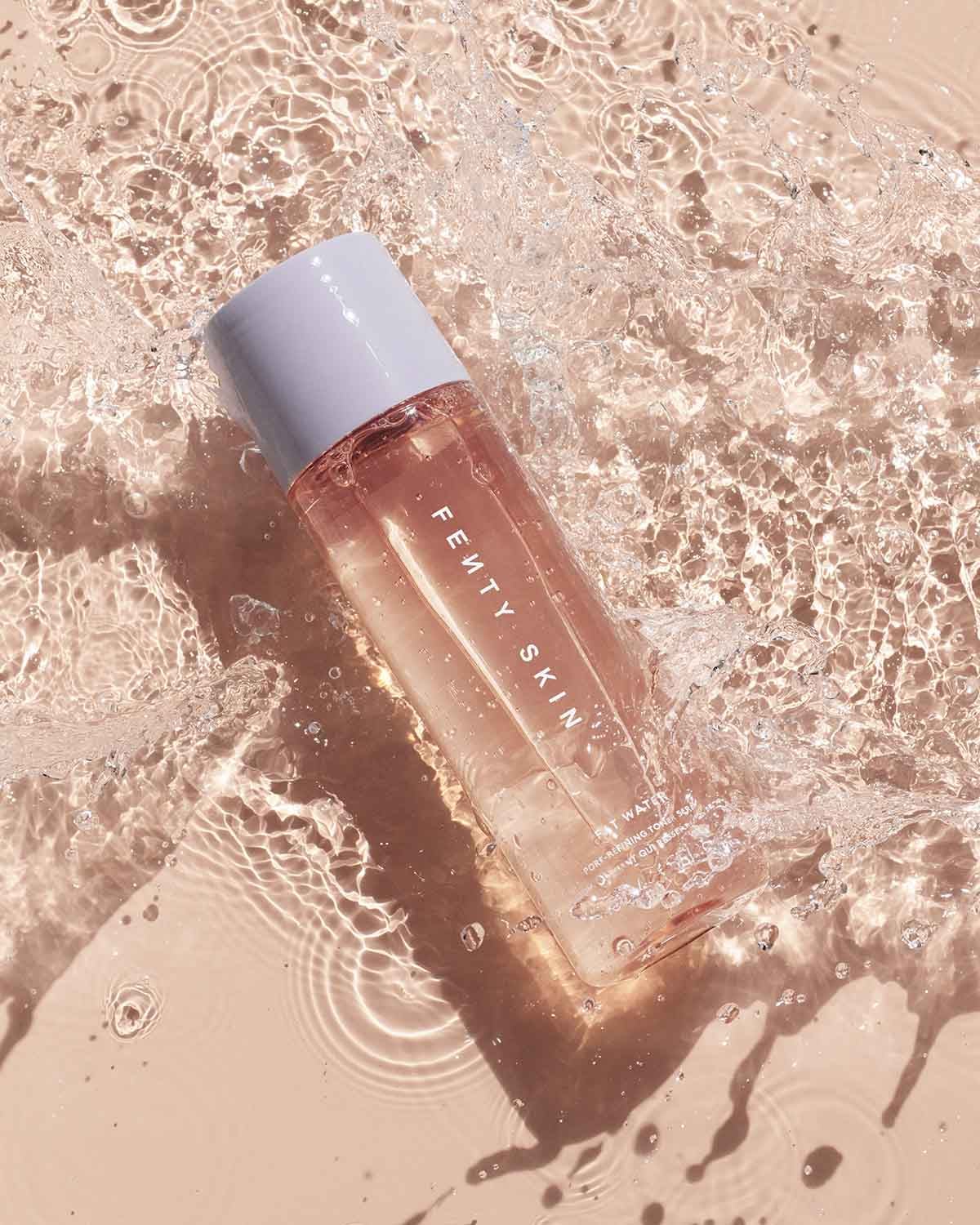 I love this product because not only does it seem to do the trick – combats redness, clogged pores, fine lines & dark spots – it's multi functional. I'd like to get back to Money Heist as quick as humanly possible so although my PM routine is self care and feels all spa-y and luxe, I ain't got time to waste on all that. This is a firm nightly product & if you don't have extremely sensitive skin like Jasmine then I suggest you give it a try.
Step 3 – Night Cream
Night cream is a must. There's rarely a time when I'll skip my routine (even when I'm traveling) but if some undesirable, unforeseen moment turns up then at the very least I'll cleanse, moisturize and apply eye cream. I'm not very picky when it comes to my moisturizer – some others I use and love are: Ole Henricksen Goodnight Glow, Fresh Deep Hydration Face Cream, & Drunk Elephant LaLa Retro Whipped Moisturizer. Anyways, moisturizing is my fav step and it's not only because what I use smells so delicious.
WHAT I'M USING:
Fenty Beauty Instant Reset Overnight Recovery Gel-Cream
Sense a theme here? I mean I wouldn't be using it religiously if it wasn't that dang good. (I also love the refillable component of the Fenty Skin lineup). It's hydrating, smells like a bouquet of roses, keeps my skin feeling tight (but not in an uncomfortable way) & combats redness and dryness which would be my two complaints if I were to choose. I also like the lil scoopy scoop provided.
Step 4 – Eye Cream
WHAT I'M USING:
The Inkey List Brighten-i Eye Cream
I've mentioned this lil ditty on IG a few different times and it's because it's one of the only eye creams I've ever used that has significantly reduced whatever dark shadows/circles are under my eyes. I've been using it habitually since I was introduced to it back in Feb/March and am really happy with the results so far. It's affordable as it gets and I especially like the applicator – makes for a nice, cooling application.
Step 5 – Lip Balm
WHAT I USE:
Laneige Lip Sleeping Mask (Apple Lime)
Kinda stoked that this wasn't just a hype product back when it was debuted. I can't fall asleep without it. Ok, fine. That might be a slight exaggeration but only a slight one. I put it on instantly after brushing my teeth because that's just how I do and I wake up with soft lips that aren't nearly as parched as I've been at 430 am all Summer long. I don't find a tangible difference between the different flavors like Jasmine does but sometimes I think I'm a lot less pickier than she is HAHA. I have noticed a difference between this specific product and a whole bunch of other lip balms and lip chaps and I can confirm with gusto that this stuff takes the cake especially in the category of dryness and longevity. Oh, I like the scoopy scoop for this one too.
So there you have it. You can now say that you've gotten un-ready with us. Just don't ask to see what we look like devoid of makeup. Baby steps.